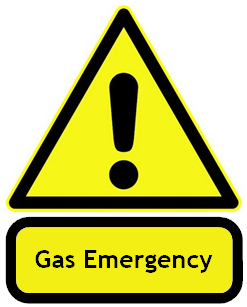 What to do if you smell gas
It's crucial to act quickly in a gas emergency.
Call 0800 111 999 immediately!
Also, see our Home Safety page for further information to help keep you safe.
EMERGENCY REPAIRS
These are repairs where there is danger to life or limb or serious damage to property. We aim to undertake emergency repairs within 1 working day.
The following are classed as emergency repairs:
A failure in the mains electrical supply, other than a power cut
A dangerous electrical fault
A burst water pipe or water tank
A blocked drain, if there is serious leakage
A blocked or totally unusable WC, if there is only one in the house
A property that is insecure, with a broken window or a damaged door following a break-in
If someone is locked in or locked out and someone is at risk or harm or injury.
For all other tenants, being locked out due to a loss of keys is not classed as an emergency. In these circumstances, we will provide replacement keys during normal office hours.
Reporting an Emergency Repair
If the emergency occurs during office hours, you should phone us as soon as possible on 01179705400
For emergency repairs outside of office hours we use the Bristol City Council Emergency Repair Service. The out of hours repairs service is for emergency repairs only and you may be charged if you use this service for a repair that is not an emergency.
If the emergency occurs outside of office hours, please phone the Bristol City Council out of hours repairs service on 0117 9222050
REPAIRS THAT ARE NOT AN EMERGENCY
Most repairs are not emergencies. Non-emergency repairs are classed in the following ways:
Urgent Repairs
These are repairs which could become emergencies if not done quickly. We aim for urgent repairs to be completed within 5 working days.
The following are examples of urgent repairs:
Roof leaks to the property.
Repair of minor water leaks on central heating and hot water installations.
Broken sanitary fittings.
Slow drainage of sanitary fittings and showers
Overflows which are causing a hazard
Loose or cracked plaster or masonry likely to become a hazard
Routine Repairs
These are repairs not classed as an emergency or urgent. We aim for routine repairs to be completed within 20 working days
The following are examples of routine repairs:
Dripping taps/washer replacement
Door and window repairs, such as repairs to handles, seals etc.
Gutter repairs.
Minor roof repairs, such as broken tiles
Minor internal plastering repairs.
Whilst we always try to meet our response times, there can sometimes be a delay for reasons beyond our control, such as a lack of spare parts. If that happens, we will contact you to explain and provide an estimated completion date.
Reporting an Urgent or Routine Repair
It is important to give us all the details below to help prevent delays.
The address of the property
The location of the fault – e.g. which room, front or rear garden, etc.
The exact nature of the problem – try to be specific for example, is it the cold or hot water or the heating
A daytime contact phone number.
How we can gain access to the property (e.g. use of master keys or by appointment only).
You can request an urgent or routine repair in a number of ways:
Complete the form below (preferred option)
Phone our repairs service on 01179705410 – If you have to leave a voicemail message, please remember to provide your contact number so that we can call you back.
Send an email to our repairs service
Contact any member of staff (e.g. your Housing Officer or Support Worker).
Request a Repair
Fill out the form below to send us an email